Drawing attention to your trade show booth can be challenging. Factoring in everything from design to material selection, lighting, and targeted messaging, planning a strategy for your 20'x20' exhibit requires detailed consideration. 
At ColorCraft, we understand the difficulty of this task, and strive to create custom exhibits that both communicate your brand and attract attendees. To help you with your trade show booth planning, our team has put together a few of our past 20'x20' projects, highlighting standout design elements and concepts!
Use Materials That Reflect Your Brand's Heritage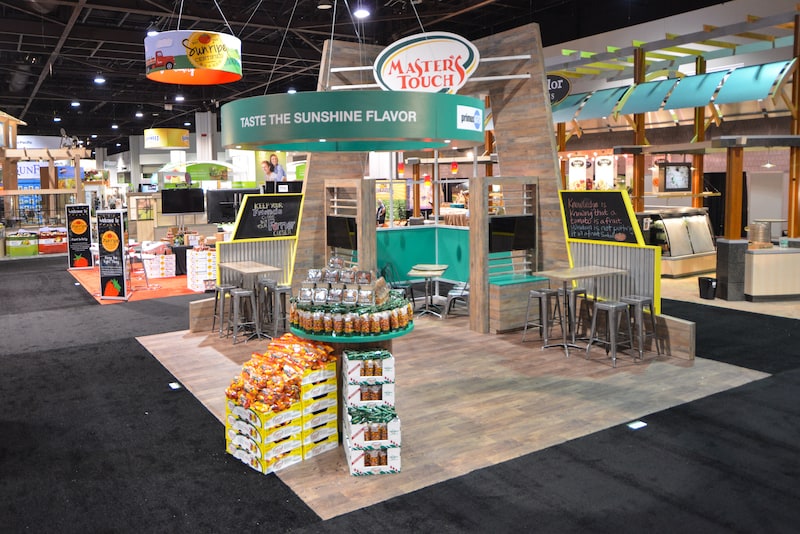 Masters Touch trusted ColorCraft to design and construct their 20'x20' trade show exhibit for the Produce Marketing Association show. They wanted an exhibit that incorporated rustic elements, reflecting their farming heritage, but also maintained an overall modern appearance. 
The ColorCraft team used corrugated metal paneling, chalkboards, wood-appearance finishes, and barstool seating to evoke the atmosphere of a farmhouse kitchen, while using contemporary lines and design to keep things fresh.
Maximize Space With a Double Deck Exhibit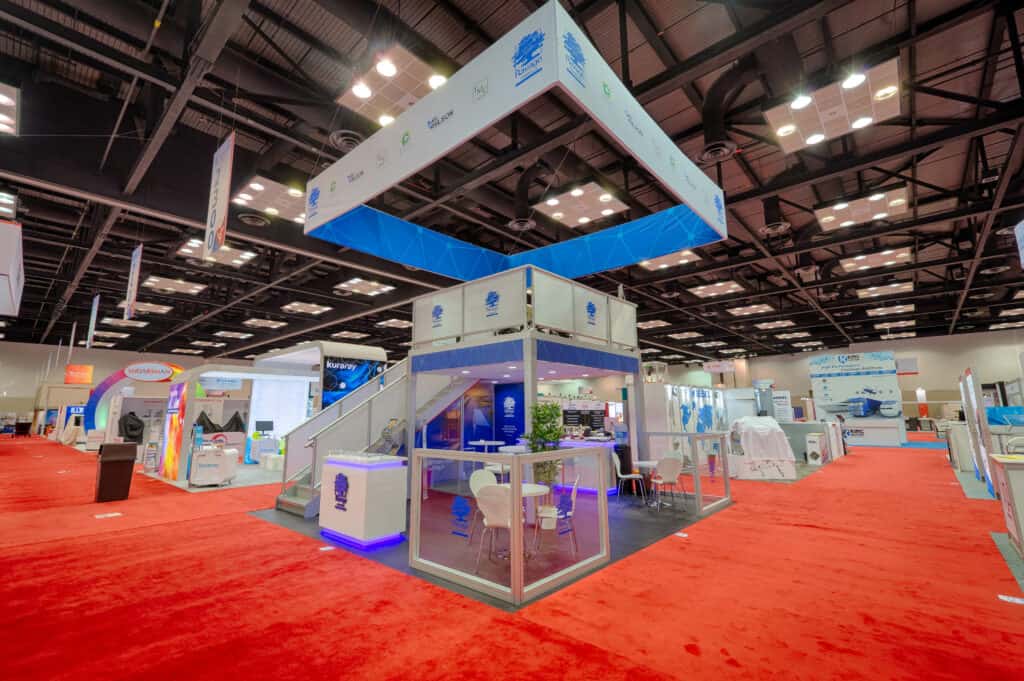 Ravago, a chemical and polymer manufacturing and distribution company, approached ColorCraft regarding the design and construction of a 20'x20' booth for their participation at the American Coatings Show. 
Ravago needed space to welcome attendees, showcase services, and serve refreshments at the booth, however they also needed a private meeting area. Given the footprint constraints of the 20'x20' space, we agreed that building vertical was the path forward. We were able to integrate a second level to the booth featuring a spacious meeting area without compromising on space for the initial requirements.
Increase Visibility With a Hanging Sign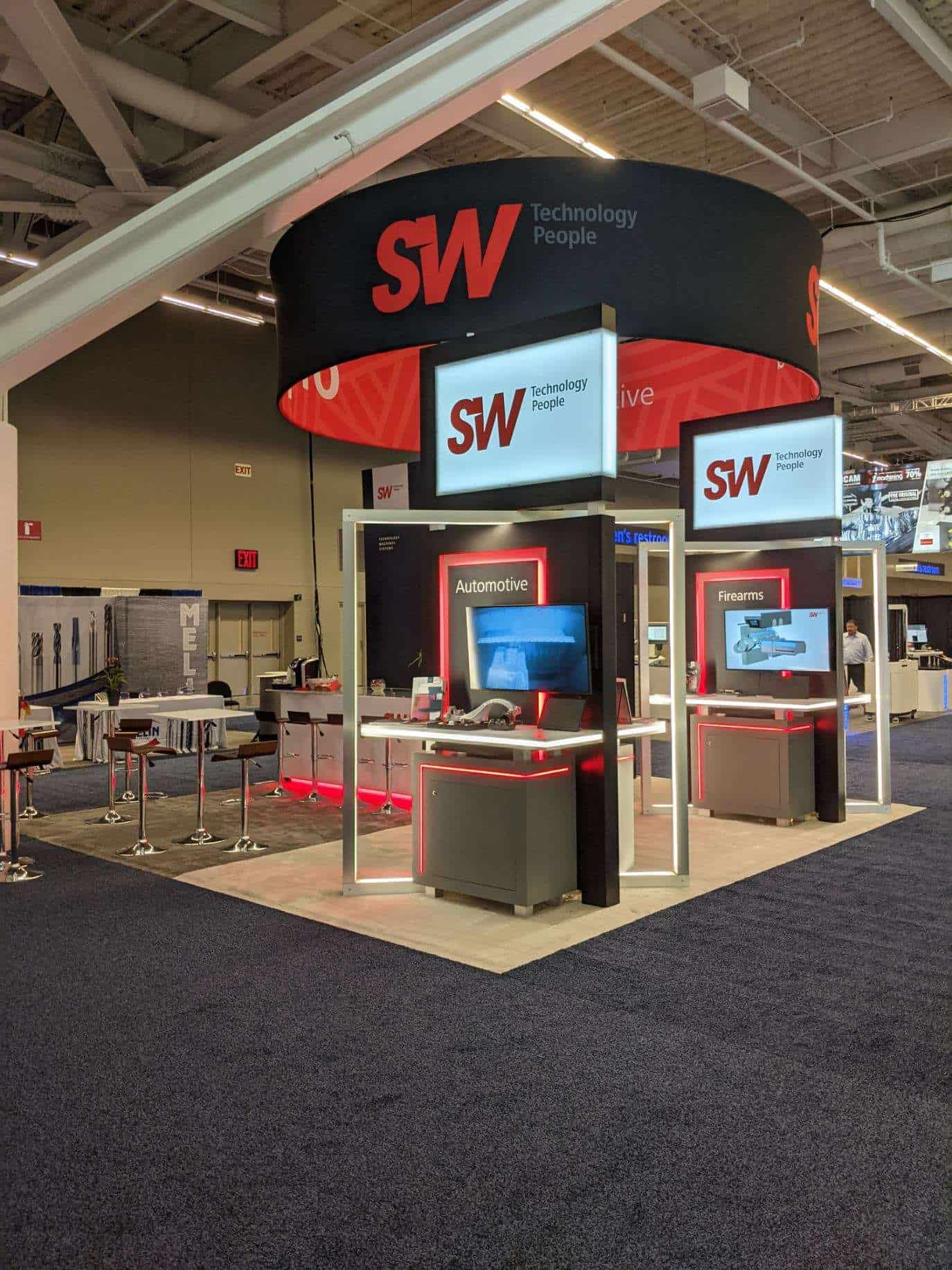 SW North America is a leading manufacturer of machining equipment. They had reserved a 20'x20' space at the Precision Machining Technology Show, and required a greeting area as well as demo kiosks. 
In order to maximize visibility from anywhere on the show floor, we suggested a large hanging sign that hovered over the booth. This was a floor supported hanging sign, which eliminated the expense of rigging the sign from the ceiling, saving money for the client. This visibility is critical! Your booth may be on attendees' "must visit" lists. Make it easy for them to find you.
Highlight Products and Services With Demo Kiosks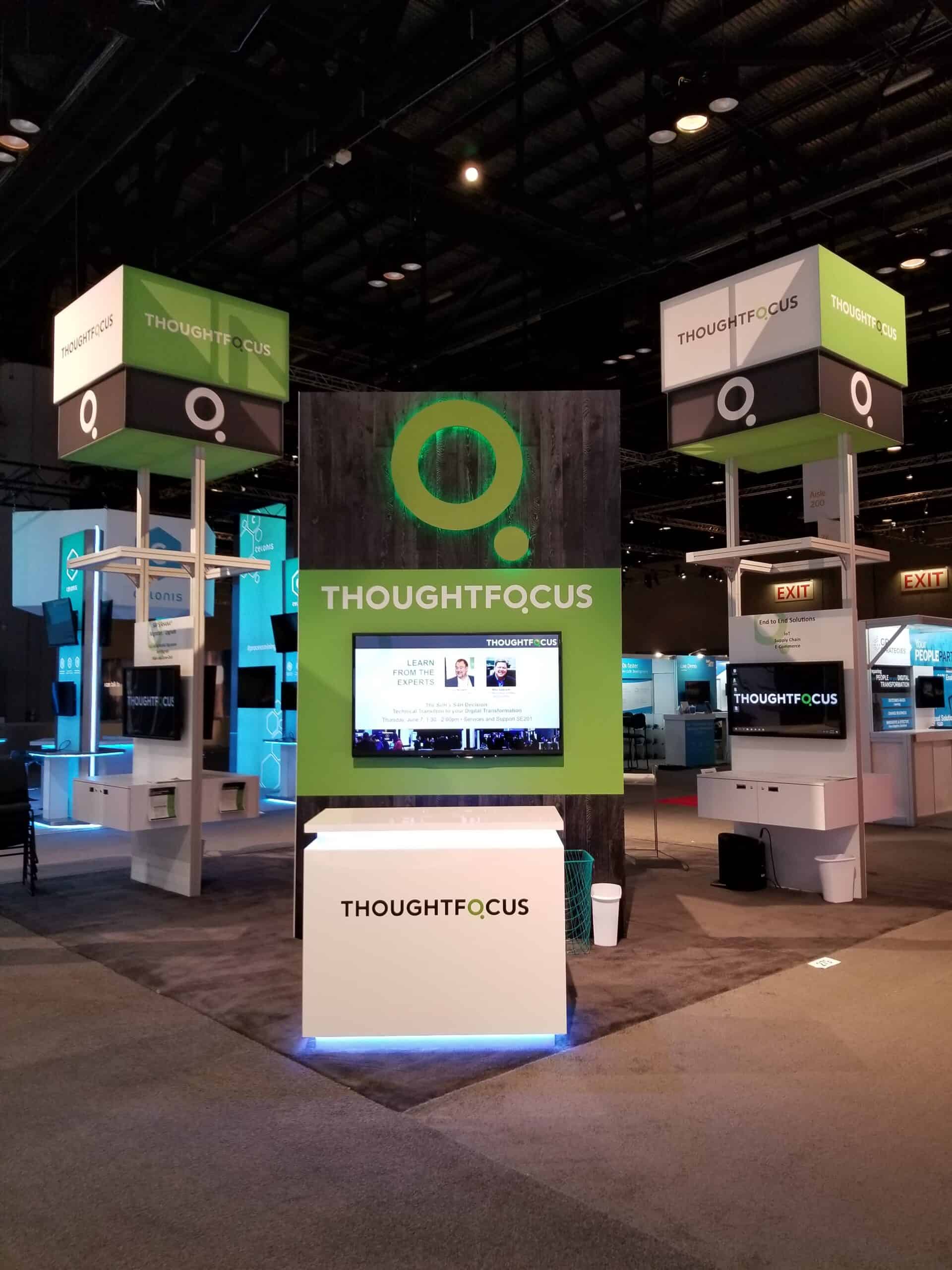 Business technology consulting firm, ThoughtFocus, needed a 20'x20' booth for an SAP Sapphire Private Event. Technology consulting covers many aspects of how tech is integrated into a business, and as such, ThoughtFocus needed a way to demo their offerings to multiple attendees simultaneously, who may have different needs in an IT partner. 
To accomplish this, we designed the booth with multiple service demonstration kiosks, and added a front desk to facilitate traffic flow. The booth also featured high standing signage, improving visibility. Finally, we included some dynamic lighting elements to give the booth a modern look.
Interactive Product Demos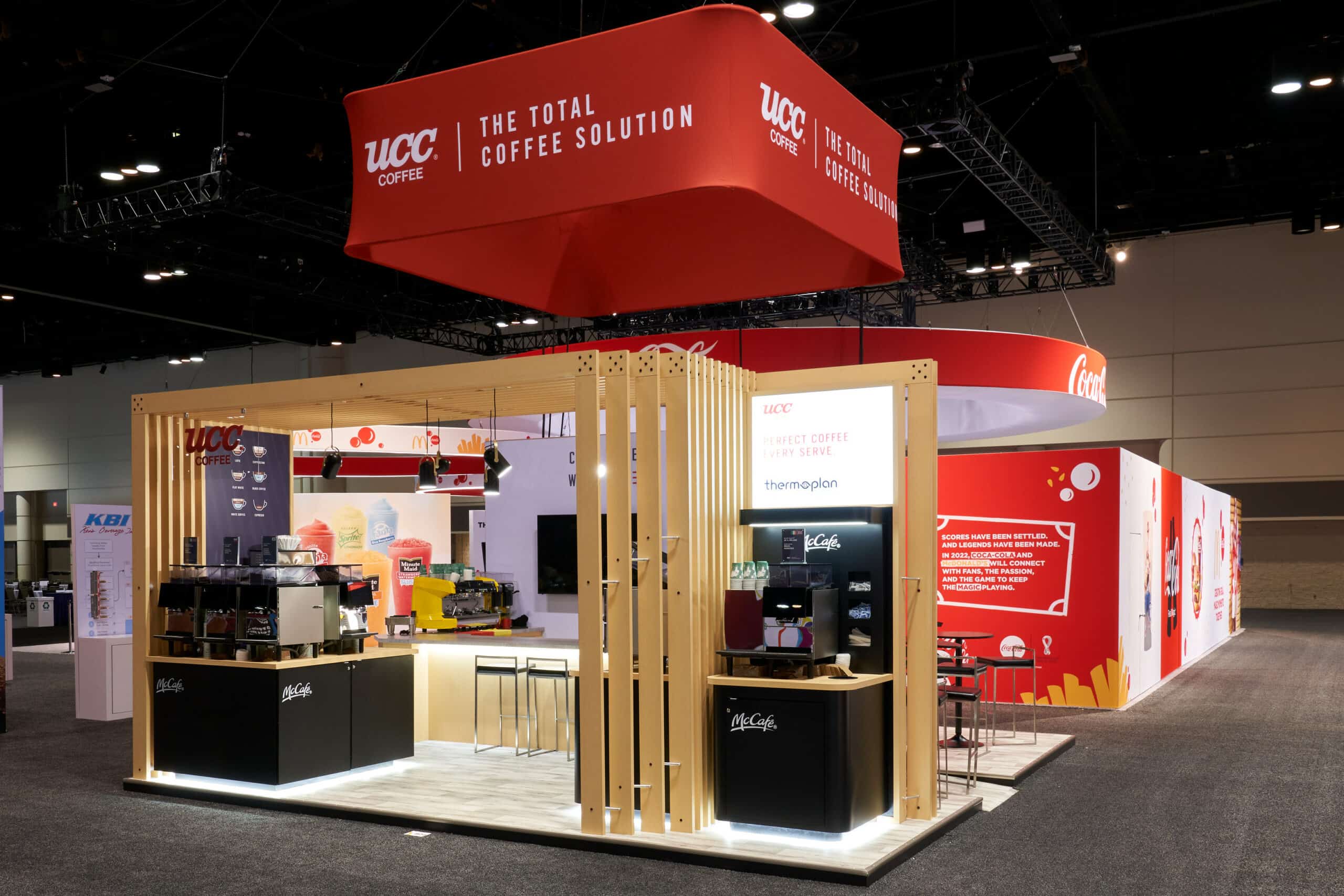 UCC, a coffee processing and distribution company, had a 20'x20' space at the McDonald's World Wide Convention. They came to us with the idea of building the booth as a functioning coffee bar, allowing attendees to grab a cup, have a seat, and converse with the company's team. 
Our fabrication team went to work, building a functional coffee bar to the client's spec. Needless to say, it was a hit with attendees! Interactive demos are an effective way to keep attendees engaged, especially when that demo involves a cup of coffee.
As you can see, there are a variety of options available to you when it comes to making the most out of your 20'x20' trade show exhibit. No matter what budget or style you have in mind, ColorCraft is here to help you create a stunning and impactful display that will capture the attention of your target audience. 
With our expertise, quality services, and wide selection of customizable exhibit ideas, we're sure that together we can create something extraordinary for your next show!