Chicago Trade Show Exhibits
Plan Your Next Chicago Trade Show Display
Planning for an upcoming trade show in Chicago, Illinois? Check out our resource guide for exhibitors looking to create custom trade show exhibits & displays to showcase at Chicago's many trade shows, conferences and expos.
Boasting the largest convention center in North America, McCormick Place, Chicago is home to some of the nation's largest trade shows and expos. It's also home to our midwest business development office, so we're familiar with every aspect of exhibiting in Chicago. Here, we've put together resources to help with all your planning – from custom Chicago trade show exhibits or local rental options, top trade shows, and more.
Custom Chicago Trade Show Exhibits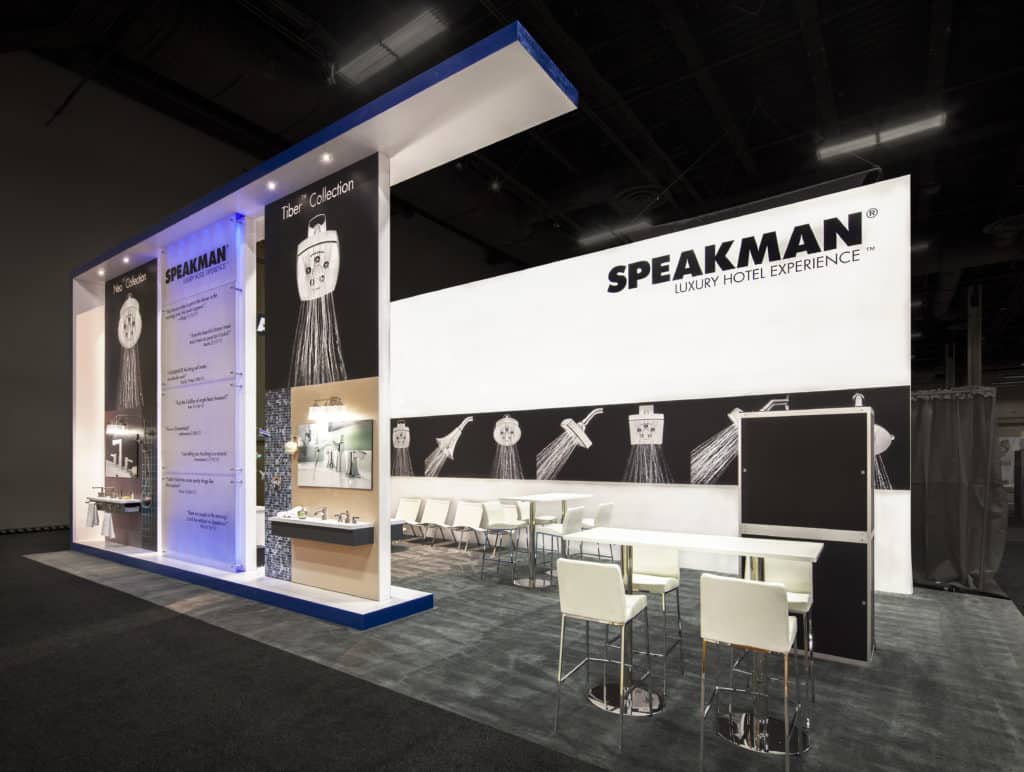 We have a highly experienced team of designers and builders creating completely custom trade show exhibits and displays out of our manufacturing facilities in Orlando and Las Vegas. At ColorCraft, we understand the importance of delivering both memorable and measurable results. Here are some of the most popular options for custom trade show displays, starting with the three main types of exhibits:
1. Island trade show exhibits
2. Inline trade show exhibits
3. Radiance Compact Modular™ Exhibits
Island Trade Show Exhibits
When you have a larger exhibit space without height restrictions, island trade show displays can help you make the most of it. Not only can you utilize overhead banners, upper level decks, and hanging custom graphics, you'll get the "wow" factor with 360 degree visibility. This truly puts your brand on display by increasing visibility on the showroom floor. It also offers a great deal of flexibility and creativity during the design process. You'll get to create an entire, branded experience to immerse your booth visitors.
Inline Trade Show Exhibits
These inline trade show exhibits are an easy and cost-effective way to bring your brand to any local trade show. But easy doesn't have to mean simple. We design highly custom inline trade show displays with endless configuration options to showcase your brand. They work great with size restrictions, such as in the classic 10'x20′ or 10'x30′ exhibit spaces. Inline exhibits also allow for quick and easy installation. The defined front and back on inline exhibits offer a nice flow for foot traffic. They also provides for features like rear display storage to help your company maximize attention on your products and brand message.
Radiance Compact Modular™ Exhibits
Radiance™ Displays are our own solution to small exhibit spaces and use the latest Compact Modular™ exhibit and display technology. They provide a unique way to make a big impact with a small branded display. That also means they are easy to transport and reduce handling, installation, dismantling, and shipping costs. Made out of a durable aluminum support structure and featuring large format or fabric graphics, as well as custom back wall shelving or product display options, they're a great value for any budget. No matter what size trade show display you need, our designers can configure unique Orlando trade show exhibits that brings your brand to life right here. Contact us to find out more!
Custom Exhibit Rentals in Chicago, IL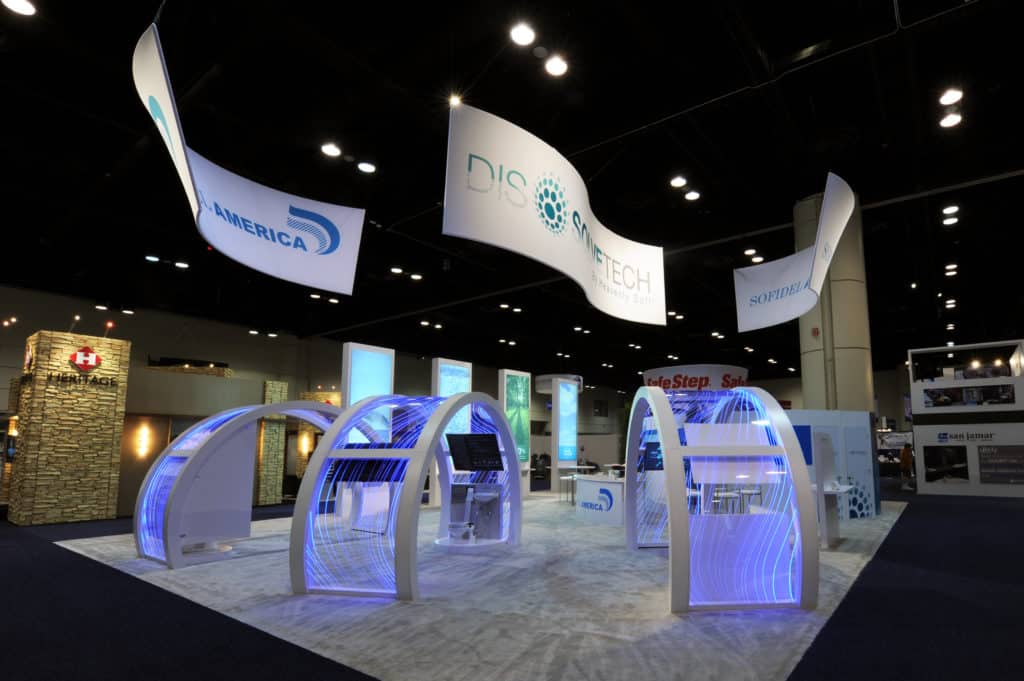 If you're looking to rent custom Chicago trade show exhibits, we have our signature ShowSmart™ Trade Show Exhibit Rental program. Available to exhibitors nationwide, it's designed to help your business reduce exhibit costs without compromising your brand's impact or presence. You can incorporate custom arches, structural curves, light boxes and brand colors and graphics into the design process to make your exhibit rental a huge success. Our exhibit rental program allows your brand to minimize your capital expense while maximizing your show schedule. You can also easily adjust with scalability and show-to-show modifications for trade shows nationwide. Learn more about our custom trade show exhibit rentals here.
Chicago Trade Show & Event Services
Need help managing your Chicago trade show so it runs smoothly? ColorCraft's team can help make sure your event is a success. We offer a variety of services to help with the coordination and management of any event, including: 
Custom design and building of exhibits or event structures 
On-site project management and event coordination 
Trade show and event labor services 
Installation and dismantling 
Auxiliary vendor selection 
We even offer corporate event planning and other services to help your brand with any type of function. Contact us to learn more about our services!
Chicago Convention Center
McCormick Place
Featuring over 2.6 million square feet of exhibit and convention space, McCormick Hall is the largest convention center in North America. It is located on Chicago's lakefront, only minutes from downtown, while offering views of one of the world's most iconic skylines.  Each year, nearly 3 million visitors attend trade shows and conventions at McCormick Place. To visit the McCormick Place website, click here.