Orlando-based trade show services agency, ColorCraft, is proud to announce and welcome Tim Roulette as a Senior Account Executive. Roulette is a trade show industry veteran and senior leader with over 18 years of experience in business development and client relationship management across numerous industry segments.
"The family atmosphere at ColorCraft resonated very strongly with me. This industry is ultimately about the client, and no agency demonstrates dedication to the client experience quite like ColorCraft. From their dynamic design capabilities to the experienced fabrication and support teams, everyone works together to deliver the value and quality that set ColorCraft apart. I am very excited to join the team, and our future," commented Roulette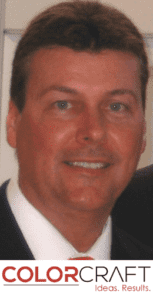 Tim Roulette, ColorCraft Senior Account Executive
Currently based out of Chicago, Roulette will be responsible for developing new business relationships, and managing service fulfillment for existing agency clients.
"We're extremely excited to have Tim onboard," commented Doug Hughes, ColorCraft CEO. "His reputation in the trade show industry speaks for itself, and we're thrilled to have his sales leadership managing business development in the Midwest… and not to mention that Tim is one of the nicest people you'll ever meet," Hughes added.
About ColorCraft:
ColorCraft is a full-service exhibit agency, driven by over 30 years of experience in the trade show industry. ColorCraft maintains facilities in Orlando and Las Vegas (and a new Chicago Sales Office), facilitating on-site support in these two major trade show destinations. ColorCraft offers 3D Design & Custom Fabrication/Rentals for Trade Show Booths, Corporate Interiors, Themed Environments, and Mobile Marketing Campaign services, with a portfolio including several Fortune 500 companies.