With a new year of trade shows come new trends. So when it's time to design your own custom exhibit, it can be difficult to know which direction to take. After helping hundreds of businesses build successful trade show exhibits, the ColorCraft team has learned a few things. Here are our top nine creative trade show exhibit ideas to attract visitors this year:
1. Make visitors feel at home.
Days spent at a trade show can be long and tiring for the attendees. You can help by making your exhibit a calming space where visitors want to relax and take a break. This can especially work if it fits the theme of your brand (like a luxury resort), but almost any type of business can incorporate the concept of downtime into their trade show exhibit. Try offering charging stations for attendees' phones alongside comfortable places for them to rest and eat snacks you provide. You'll end up with visitors that feel at ease with your brand and are more open to learning more about your products and services.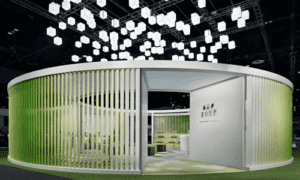 2. Create a sensory experience.
The visuals of your trade show exhibit are important, but don't neglect the impact of the other senses. Talk to your exhibit designer about how the creative use of colors, lights, textures, sounds, or vibrations can help you create the right atmosphere. You can evoke luxury with satin, go "green" with bamboo, or create excitement with LED lights. Use elements that match the tone and emotions of your brand. As an added bonus, consider choreographing your display's sound and lights into an attention-grabbing show that plays at the top of each hour.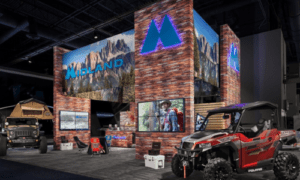 3. Build "up" to attract attention.
Consider building a multi-story booth or use hanging signs so your brand can be seen from various sight lines. It's simple but effective. Using the maximum height will not only increase visibility, but multiple stories can also be a way to accommodate more visitors in your space. As an added feature, consult with your design engineering team on how you can use ramps and inclines in your trade show exhibit to increase accessibility to attendees that can't navigate stairs.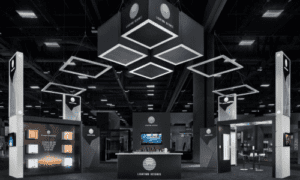 4. Draw visitors in from every angle.
Depending on the size and setup of the trade shows you attend, there's a high chance your display might be approached from multiple directions. It can be a good idea to create a design that draws visitors in from all angles as we've done for many of our clients in the past. That way your exhibit properties can adapt to the layout of each space that you acquire. This will help you pique the interest of anyone that sees your brand's exhibit.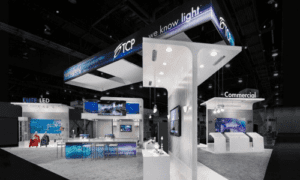 5. Show off with live "green walls."
Bring in the outdoors with the vertical use of greenery. If it fits your brand or exhibit idea, adding planters or a wall of plants can help you get noticed. You'll create an airy, healthy environment in which to talk about your brand's green products, or company's environmental practices. It will also provide a nice contrast to the neighboring exhibitors,  creating an inviting atmosphere for your visitors.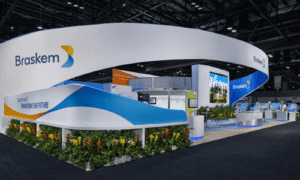 6. Increase engagement with a social media display.
The easiest way to get attendees to tweet and interact with your brand is to make it fun! Consider adding a digital wall that displays social mentions of your brand or offer game-like incentives for user's social shares. Visitors will enjoy trying to get their name on the board, and your brand will get free social marketing. It's a win for everyone.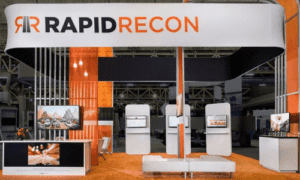 7. Provide a good photo-opp.
You can also encourage your visitors to post about you online by having a photo opportunity. ready. By incorporating an inexpensive cutout or props into your trade show exhibit, you'll gain free marketing. You'll also end up with an exhibit that's fun and interactive for your visitors. If you go this route, make sure to display your brand's hashtag where it will be captured in their photos. While at the show, have someone on your team respond online to attendees that post about you.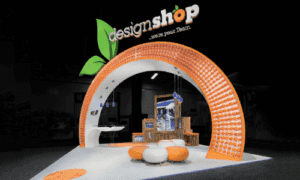 8. Make your trade show exhibit interactive.
Don't stop at social walls or photo opps. Ask your exhibit design team how you can incorporate interactive elements throughout your display. One unique approach is to use interactive flooring that reacts as visitors walk across it. You can use it to build an environment that ties into your branding (like using ocean water if you're a surf company) but also makes a huge impact on attendees. They'll want to stick around and play with it, giving your sales team the perfect chance to engage them.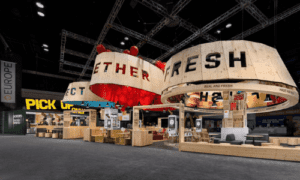 9. Construct a designated meeting space.
Recently, we've seen more exhibits with semi-enclosed spaces. It's a trend that we're confident will keep growing. Having your own meeting space can help visitors feel comfortable asking questions during the buying process. It can also help your sales team hold their attention long enough to secure a decision at the show.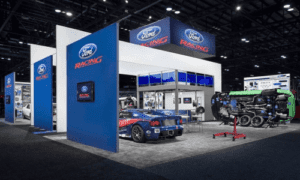 When it comes down to it, these nine creative trade show exhibit ideas are just the start to successfully attracting visitors. For more display ideas, take a look at some of the custom trade show exhibits and custom rental exhibits we build for our clients. Or if you'd like to discuss how we could help design your next project, contact our team.