When you attend a trade show, you'll see both new and old trends. It raises the questions: what is and isn't working in the exhibiting world? What new trends should we expect to see this year? To find answers, we scoured the latest studies and data on the trade show industry to see what patterns emerged. Here are 10 of the most surprising trade show industry trends and statistics we found:
1. Over half of exhibitors say they have the most success reaching their target audience at smaller shows.
Turns out, bigger isn't always better for trade shows. While one-third of exhibitors did say they see the most success at national shows in a study conducted by AIRC, 53% said they experienced the most success at regional shows. If you usually attend larger shows and have trouble finding your ideal prospects, it might be worthwhile to consider smaller exhibitions.
2. The majority of leads at trade shows are still captured by old-fashioned business cards.
In a survey conducted by EXHIBITOR magazine, a majority of trade show marketers said they collect business cards to capture contact info at trade shows. This is surprising considering the growth of show's electronic lead machines and smart device apps. Interestingly, the number one aspect exhibitors said they need to improve for lead management is "lead capture." If your system isn't working for you, try implementing lead capture technology to stay organized and ahead of your competition.
3.  Your salespeople make better booth staffers than senior management.
You might assume high level executives are the best faces for your booth, but the statistics say differently. 59% of trade show marketers said salespeople were their best booth staffers. Only 29% responded with senior management. We think the stats speak for themselves. If you have your c-suite or other execs manning your trade show exhibit, make sure to support them with sales staff, too.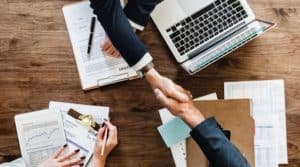 4. Trade show leads actually cost less than traditional leads to convert.
When weighing the cost vs. benefits of trade show exhibiting, consider this fact from the Center for Exhibition Industry Research. According to the CEIR, the average cost of a face-to-face meeting with a prospect at a trade show is $142. That's far less than the $259 price tag on a meeting at a prospect's office. Because of this, designing your trade show exhibit space to be meeting-friendly is key. Building an enclosed meeting space into your display can help your trade show sales team make the most of any trade show.
5. Pre-show emails to key clients and prospects are by far considered the most effective way to drive booth traffic.
Nearly three-fourths of trade show marketers find email to be their best pre-show marketing tool. While social media marketing is growing for pre-show promotions, with 46% of exhibitors describing it as effective, email is still the winner. When you're doing pre-show planning, it's important to focus on developing a strong email marketing strategy to help you increase booth attendance and stand out in your prospect's inbox. As for social media, Facebook was marketers' top pick for pre-show marketing.
6. Having your own expert at your booth is one of the most effective forms of promotion during the event.
It's no shock that giveaways are still considered the best form of promotion during any trade show or exhibition. But you may be surprised to hear that the second highest answer is providing experts and educational information at your booth. That beats out contests, presentations, food and drinks and more. It makes sense, though, when you consider the fact that 92% of attendees say they attend to learn about new products. In addition to your sales team, consider having your own in-booth product expert on hand at your next trade show.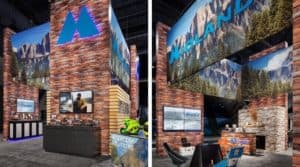 7. One-third of exhibitors say adding better graphics helped achieve better results.
Sometimes, the answer is simple. There are all different unique ways you can improve your booth design. (Here are 9 creative trade show exhibit ideas to help you attract visitors!) But it's important to master the basics, like graphic design. In a Display Wizard exhibitor survey, around half of respondents listed an eye-catching display as the best method for attracting visitors. Re-visit the visual elements of your current display, including the images, banners, and signs, and consider if it's time for a change. Updating your trade show exhibit's graphics can make a huge visual impact that increases booth traffic.
8. Less than a quarter of exhibitors say they conduct detailed measures of their results.
Looking for a way to increase your competitive advantage at future trade shows? Most trade show exhibitors aren't keeping track of what's working for them. In our top 7 tips for increasing your ROI, we put it this way: success starts with pre-show planning. So have your team start by deciding what your main goals are for exhibiting, then use that to determine what KPIs to use and info to keep track of at the event. You'll set yourself up with clear metrics to use later when measuring your results, and give yourself an edge on what to do for the next convention.
9. Just 6% of your competitors believe that they convert trade show leads well.
Let's face it. You may have a trade show display for a number of reasons, but it usually comes back to sales. Between 2009 and 2014, "collecting leads" grew from 16% to 59% of exhibitor's answers for why they use trade show marketing. But when asked, only 6% thought they converted those leads well. This trend can be your opportunity. Developing a strong lead management system and dedicated follow up plan to use pre, during, and post trade show will put you miles ahead of your competition.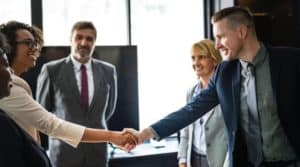 10. Finally, trade show attendees make great prospects.
If you're considering exhibiting for the first time, it can seem like a big unknown. But statistics show that trade shows really are a great place to meet prospects. According to the CEIR, 67% of all expo attendees represent a new prospect and potential customer for exhibiting customers. Better yet, Exhibit Surveys, Inc. reports that 84% of trade show attendees having buying authority. And since half of all trade show attendees are new each year, you may just find yourself counting down the days until you can return. After all, 99% of marketers said they found unique value from trade shows they did not get from other marketing mediums.