Right now, you're probably contemplating whether or not to invest in a custom trade show exhibit. So let's start with the big question – is it worth your time and money? If you're looking to make an impact, generate leads, and become a brand powerhouse, creating a custom design will do just that. At ColorCraft, we know custom trade show displays like the back of our hand. To help you get the most out of your next trade show, we've compiled the top six benefits of going custom into the list below.
1. You'll give an unforgettable first impression.
Does a good first impression matter? Yes, in fact, it matters a lot. According to psychologists, it's almost impossible to come back from a bad first impression. When your business goes to trade shows and events, the kind of impression you make should be at the forefront of your mind. When your job is to attract leads, you should never leave the first impression with attendees to chance, especially when trade show booth design is an aspect you can control. You should do everything you can to make your exhibit stand out, wow, and impress the crowd. Those good first impressions will lead to a connection or a sale, while bad ones could give you a negative connotation. At a trade show, you won't get a second chance at an unforgettable first impression.
2. You'll increase engagement from booth visitors.
Custom trade show displays are made to draw attendees in from all angles. Whatever your goals are, displaying products in a way that is the most visually appealing will help you pique the interest of anyone who sees your booth. The design you choose can also affect the experiences you provide. A greater experience will lead to greater engagement. How will you display your communication? What colors and graphic design will make your message pop? A visitor's overall response to the messaging and look is all part of the experience. Creating personalized communication is also important. How you talk to visitors, gather their information, and part ways with them will all have an impact.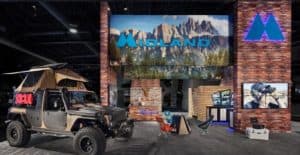 3. Custom trade show displays will elevate your ROI.
Calculating your ROI for any event can be tough. One thing you can be sure of is that custom trade show displays that you can use and re-use are a good investment. The rule of thumb for events, according to Hubspot, is that ROI is not only dependent on just the events happening at the trade show. It's also dependent on events that happen afterwards. By creating something that is unique, you'll end up offering a greater experience than a rental, and you'll make lasting impressions that will turn into leads. Check out Hubspot's free eBook to learn more about reinventing your marketing for higher ROI.
4. You'll set your brand apart from competitors.
No one wants to blend into the crowd at a trade show. Especially when you consider the latest trade show industry statistics show 84% of trade show attendees have buying authority. Setting yourself apart at a trade show is the best way to connect with your target audience and, more importantly, key decision makers. How you position your brand at a trade show is key to increasing visibility. Do you want to look just like the display next to you? Of course not. A custom trade show booth will make sure visitors see and remember your brand over your competitors, and this will directly affect sales. The more control you have over your look and design, the better off your business will be at an event.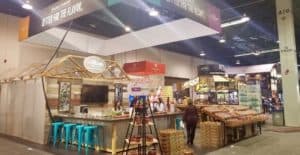 5. You'll make your brand more personable.
Custom trade show displays will visually define your brand. A display that is branded from the inside out will make sure attendees recognize what your brand voice is and how to connect with you. This way, your brand will take on a persona that is more approachable. After all, branding is one of the most effective strategies a business can use to connect with a targeted audience and increase sales and revenue. As a consumer, you have trusted brands you love and recommend. As a business, you can create a display that helps trade show attendees feel that same trust and rapport with your brand. Your brand is everything that makes up your customer's experience, and the credibility of your product or service is equally determined by the brand. Don't let your brand fall short, or it could cost you more than just the trust of attendees.
6. You'll improve your exhibit's functionality and impact.
The booth space you have at trade shows can also make or break your success, so consider a custom exhibit that modifies your brand's needs. You'll want to utilize your space and make sure your exhibit design has enough storage area as well as meeting areas to talk with attendees. Having a custom design allows you to turn functionality into an eye-catching exhibit. Don't diminish the impact you could have because of a smaller trade show footprint. Custom trade show displays can help take your business to the next level at trade shows and events.