If you're trying to design a permanent or temporary museum exhibit, you already know that they make the perfect outing. With a successful museum exhibit, you can provide individuals and families with a unique way to learn and experience history, inspiration, art, and wonder. But it raises the question – how do you create great museum exhibit design?
Successful museum exhibit design enhances the experience your visitors receive and the learning or entertainment value they take from it. No matter what you're exhibiting, we have some suggestions that can help any museum create a winning display. Here are our top 10 tips for designing a great museum experience:
1. Have "Visitor Personas" and a Clear Audience in Mind
Before you can start designing a successful museum exhibit, you should aim to understand who your target visitors are and what they want from the experience. Creating and targeting specific customer personas is a great way to achieve that. If you're part of an already established museum, you can start by evaluating the demographics of your existing customers. If you're building a new or temporary installation, you can start by looking at the demographics of your surrounding area. Either way, you can start to create "visitor personas" based on the data and who you think your subject matter will most interest and attract. As you start planning, you'll want to tailor your museum exhibit design towards those personas.
2. Tell a Story (and Stories Within the Story!)
There is no better way to make your visitors feel like they are a part of art or history or fully immersed than through the art of museum exhibit storytelling. At first, you might be tempted to focus on only one broad story per each one of your exhibits. But don't think of signs as only being able to identify and date the artifacts. While that's an important component to successful museum exhibit design, it's missing one key element – the stories within the story. You can use signage to also tell specific, detailed stories about the pieces that fit within the larger framework of your display. That serves as an interesting way to further immerse and educate your visitors. As humans, it's the stories behind historical artifacts and grand paintings that help us feel connected to them. You can use signs, banners, interactive kiosks, and technology all throughout your museum exhibit to tell those mini-stories.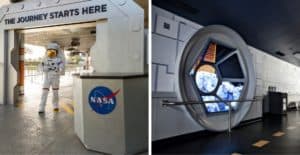 3. Create a Linear Flow Through the Museum Exhibit
Just as most stories are best told in a linear, chronological manner, so are museum exhibits. You want to design the experience to "walk" visitors through history. It's important to create a sense of time and place in every part of the display. This is especially true when creating an exhibit about history, inventions, or evolution of the natural world. But you can do more than arrange the display along a timeline. For compelling museum exhibit design, use exhibit graphics, labels, signage, sounds, and interactive technology as visual cues. These can help you completely immerse your visitors in different time periods.
4. Use Graphic Design to Create Interest, Flow and Focus
The use of graphic design is vital to bring your museum exhibit to life. That can mean anything from signs and labels to banners and huge set pieces. On a basic level, signs and graphics can help organize the flow of traffic. They're also one of the best tools for turning your museum exhibit into a themed environment. Instead of placing your visitors in the role of casual observers, you can immerse them in the experience. With the right environment, they'll feel like active participants in history. The Kennedy Space Center exhibits are a great example, and how they make people feel like astronauts on the International Space Station.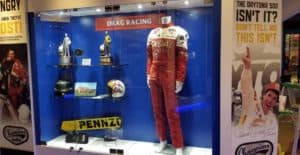 5. Incorporate Interactive Learning With Gamification
Try leveraging the latest techniques from the gaming industry to create fun and interactive experiences for the kids. You'll end up creating an experience the entire family can enjoy.The best part is that gamification can be incorporated into a museum exhibit design on any budget. You can consider low-tech options like incorporating a hidden "treasure hunt." This involves hidden items into your visuals and graphics that families can walk through and find together. Or you can go high-tech, with clickable, interactive games on kiosks and digital displays. You can even consider the latest in AR (augmented reality). Whichever way you go, you can "gamify" the experience to help kids connect to and learn from your museum exhibit.
6. Embrace Technology in Your Museum Exhibit Design
We just mentioned the exciting possibilities that gaming tech offers. That's just one part of all the great tech you can use. Integrating technology into your museum exhibit design can help capture and hold the attention of your visitors. Technology to consider might range from interactive kiosks to video monitors, but it can even go beyond your physical display. Audio and mobile apps are an innovative way for your visitors, especially the younger ones, to learn from and interact with your museum exhibit.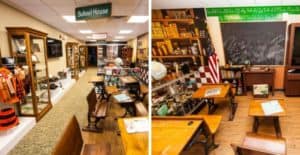 7. Present Art and Artifacts in Interesting Ways
When it comes to displaying the artwork or artifacts at the heart of your museum exhibit, you can apply our same tips for innovative product displays. First and foremost, make sure the items are easily visible. For small artifacts, you can bring them into view with the usual good lighting and elevated platforms. You can also add large graphics, hanging banners, or video screens next to them. With larger artifacts, it can be striking to counter expectations that they'll be on the ground or a low platform. Instead, you can mount them to the wall or structure of your exhibit for a fresh perspective. The key is to make sure your display isn't crowded so that each artwork or artifact can make an impact.
8. Divide Larger Exhibits into Sections
When it comes down to it, sometimes the easiest way to tell your story, create a linear flow, and build striking artifact displays is to break a larger exhibit into smaller sections. This can help make the information more digestible for your museum visitors. It also allows them to get a sense of completion as they move from section to section. Adopting this approach will allow you to get creative with your use of the walls and layout in your museum exhibit design. You can employ effective and dramatic storytelling through your choice of when to unveil different artifacts and information to people as they move through the exhibit.
9. Use Consumer-Centric Marketing to Generate Buzz
It doesn't matter if you're designing a small local display focused on the nearby community or a larger exhibit that relies on drawing visitors and tourists from afar. There has to be a buzz created around the museum exhibit to ensure steady foot traffic. When doing any museum marketing, you can create buzz by putting yourself into your customer's perspective. First, figure out the main focal points of the display that will attract their interest. Then make sure you and your team talk those features up in your local press, community calendars, digital marketing (website, social media, and email campaigns), printed brochures, and more.
10. Design With Clearly Defined Goals as Your Road Map
We've talked about the different experiences your exhibit can offer your visitors, and the different elements you can incorporate. There's one final step before you start designing. You have to decide what you want to achieve with your museum exhibit design. Are you trying to educate, entertain, or inspire? Do you want to make it fun for the family, or strike a serious note? You'll be faced with so many decisions during the planning, design, and implementation. You should have clearly defined goals that you can fall back on. You can later use them to measure your museum design success as you build out the perfect experience for your visitors.