Trade shows are all about making an impact and standing out from the crowd. In 2023, we are seeing some exciting trends in trade show exhibit design that are sure to grab attendees' attention.
From LED lighting to incorporating natural shapes and materials, exhibitors are getting creative with their displays. Conference rooms and meeting areas within exhibits are also becoming more common, and aluminum is now being used instead of wood for lighter weight, reducing shipping costs. And with technology more important than ever, live streaming from the event is becoming an increasingly popular way to engage audiences both on-site and online. Whether you are looking to buy a new custom exhibit, or are interested in designing a custom rental exhibit, let's take a closer look at some of the top trends in trade show exhibit design for 2023.
LED Lighting
One trend that has already been gaining traction over the past few years is the use of LED lighting. LED lighting is becoming more affordable and accessible for exhibitors of all sizes. Not only does it help to highlight elements of your exhibit and draw attendees in, but it's also energy-efficient and eco-friendly. Plus, with so many ways to customize light settings and colors, you can really make your exhibit stand out from the crowd while reinforcing branding.
Aside from spotlights, strip lights, flat walls, and accent coloring, modern LED technology allows exhibitors to create curved LED walls, adding a unique and dynamic styling element that really brings an exhibit to life.
Natural Shapes and Materials
Another popular trend is the use of natural shapes and materials. Incorporating organic elements such as wood, stone, or plants can help to create a more relaxed atmosphere that's inviting for attendees. Plus, it helps to make your exhibit stand out from the pack and adds an extra layer of texture and interest.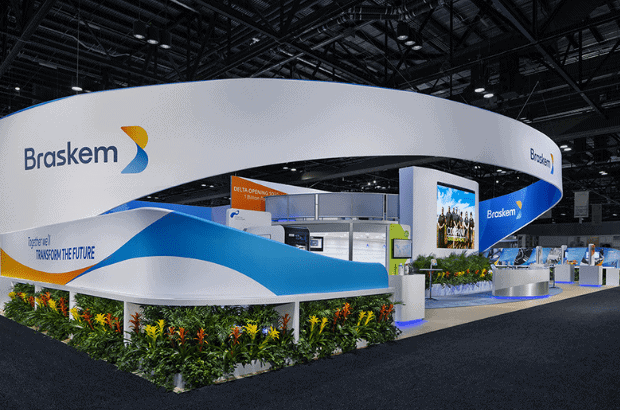 Greenery
Whether you want to liven up your exhibit with a few plants, or incorporate an entire greenery wall, this is a great way to bring the outdoors to your exhibit, while also creating a fresh, natural atmosphere.
Natural Shapes
In addition to incorporating natural materials, another way to stand out is by creating unique shapes and structures. The days of boxy exhibit design are behind us. Not only does this draw in attendees, but it also makes for great photo opportunities.
Conference Rooms and Meeting Areas
As trade shows become increasingly busy, conference rooms and meeting areas are becoming more popular as a way to provide a quiet space for attendees to have conversations. While these spaces may be small, they can really make an impact by using colors, textures, and shapes to create an inviting atmosphere, allowing your sales team to make more meaningful connections at trade shows.
Aluminum Exhibit Frames
Aluminum is becoming the material of choice for many exhibitors due to its lightweight properties. It's easy to transport and assemble, making it ideal for larger exhibits or events that require frequent setup and break down. Plus, aluminum can be used in a variety of ways to create interesting designs.
Although wood can be cheaper, the shipping costs can become prohibitive. Additionally, an aluminum frame booth will handle significantly more wear and tear, giving your booth a longer lifespan.
Live Streaming
Live streaming is becoming a popular way to engage both onsite and online audiences. Whether it's live interviews or presentations, real-time broadcasts can help to keep attendees informed and engaged throughout the event. Plus, they provide an opportunity for exhibitors to reach an even wider audience and increase brand recognition.
Overall, there are plenty of new and exciting trends in trade show exhibit design. From LED lighting to incorporating natural shapes and materials, exhibitors have a wealth of creative options to explore. Plus, with the use of aluminum and technology such as live streaming, there's no limit to what you can do!
Planning for an upcoming trade show? Contact us today to discuss how we can help you create the perfect exhibit to make an impact.