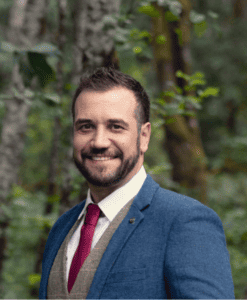 ORLANDO, FL – ColorCraft, an Orlando-based trade show exhibit design and fabrication company, is excited to announce the addition of Todd Schenck as Director of Strategic Accounts.
Schenck is a veteran Sales Executive with 15 years of sales and management experience, including 12 years of experience within the trade-show industry. As ColorCraft's Director of Strategic Accounts, Schenck will be responsible for building and managing relationships with ColorCraft's trade show exhibit clients.
Schenck had previously worked for ColorCraft as a Senior Account Executive before departing in 2017 to successfully produce exhibits throughout Europe.
"I am beyond thrilled to rejoin the ColorCraft team. The atmosphere and energy here are unlike any other work environment, creating a sense of camaraderie and inspiration that fuels our collective passion for excellence," commented Schenck. "The team's dedication to their craft and the collaborative spirit have always been at the core of what makes this company special. I am excited to bring my sales and management experience back to the fold and contribute to our collective success" Schenck continued.
Schenck will work alongside ColorCraft's production and fabrication staff at their Orlando headquarters.
About ColorCraft:
ColorCraft is a full-service exhibit agency, driven by over 30 years of experience in the trade show industry. ColorCraft maintains facilities in Orlando, Chicago, and Las Vegas, facilitating on-site support both nationally and internationally.
ColorCraft offers 3D Design & Custom Fabrication for Custom Trade Show Booths/Rentals, Corporate Interiors, Themed Environments, and Mobile Marketing Campaign services, with a portfolio including several Fortune 500 companies.