PRESS RELEASE: ColorCraft, an Orlando-based trade show exhibit design and fabrication company, is excited to announce the addition of two new members to its senior management team. Joe Aquila has been named CMO, and Mark Johns has been named Corporate Controller.
Joe Aquila is a veteran marketing professional, having overseen the development and successful execution of multi-channel marketing strategies for several national brands through agencies and in-house positions. As ColorCraft CMO, Joe will be responsible for refining marketing strategies, overseeing and developing the marketing team, and supporting business development.
"The ColorCraft team is the most tightly-knit, goal-oriented group that I've had the privilege of working with. I am truly inspired by this organization's dedication to customer success, and I couldn't be more excited for this opportunity to be a part of it and contribute to its growth," Joe commented.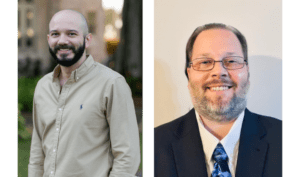 Mark Johns joins ColorCraft as Corporate Controller with over 25 years of corporate accounting experience, spanning across multiple industries including retail, manufacturing, and construction. As Corporate Controller, Mark will oversee ColorCraft's finance and accounting functions and operations.
Mark explained "I am thrilled to join the incredible team at ColorCraft. I greatly look forward to the opportunity we all share in growing this business to its full potential and beyond. With the amazing staff that management has put together, I believe the future of ColorCraft is so bright, we will all have to wear shades!"
About ColorCraft:
ColorCraft is a full-service exhibit agency, driven by over 30 years of experience in the trade show industry. ColorCraft maintains facilities in Orlando, Chicago, and Las Vegas, facilitating on-site support both nationally and internationally.
ColorCraft offers 3D Design & Custom Fabrication for Custom Trade Show Booths/Rentals, Corporate Interiors, Themed Environments, and Mobile Marketing Campaign services, with a portfolio including several Fortune 500 companies.