Trade shows are known to produce a large amount of waste every year. Thinking sustainably can help reduce the environmental impact of exhibiting. Going green doesn't have to be difficult or expensive. In fact, it can even help save your business money. Below are a few eco-friendly trade show ideas and tips for exhibitors.
1. How much your exhibit weighs is less important than how it is packed and shipped.
Try to use materials that can fit on one pallet and be packed tightly. This helps reduce the number of trucks on the road overall. Each time you reuse your trade show exhibit, you'll be saving money on shipping. You'll also be reducing the amount of pollution generated.
2. When traveling to trade shows, try to always fly nonstop.
It's a simple way for your team to make an environmental contribution. Planes create much more pollution climbing to altitude then they do while cruising. Cutting down on multiple flights is one of the easiest eco-friendly trade show ideas for business trips.
3. Keep and reuse your trade show exhibit as long as you can.
You don't have to build a completely new trade show exhibit every time you need a new look. You can re-skin properties, swap out graphics and rearrange the booth layout. It will allow you to create a new look without having to build a whole new display every few years.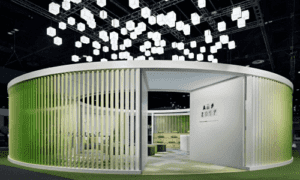 4. Go digital to give away less printed materials.
Re-evaluate your print needs by considering what information you can send out digitally. This helps vastly reduce paper waste at trade shows. You can also use environmentally conscious printers located in the trade show host city. It avoids the costs and carbon footprint of shipping.
5. Choose an environmentally-conscious convention center.
Look for those that are LEED (Leadership in Energy and Environmental Design)-certified. LEED certification is not easy to attain, so this proves that the facility is committed to sustainability. These facilities have environmental programs in place full of eco-friendly trade show ideas for your event.
6. Use eco-friendly materials in your trade show display.
There are so many great eco-friendly trade show ideas when it comes to booth materials. Consider using durable cardboard for structural application as opposed to aluminum because it is much more biodegradable and sustainable. You can also use cotton or bamboo fiber materials instead of vinyl for banners.
These are just some eco-friendly trade show ideas to consider when planning a sustainable event or trade show. For more information on sustainable exhibiting, call us today.