It's no secret that trade shows can be stressful. From designing the perfect exhibit to training your team, there's a lot that goes into successful marketing at any convention or expo. But the good news is that, with a bit of strategic planning, you can greatly reduce the daunting uncertainties that go into executing your upcoming event. Here are our top 5 awesome trade show ideas to reduce stress:
1. Plan Out Your Trade Show Marketing Budget
This should be your first step to reduce stress. It's one thing to know the total budget you have for a fiscal year or individual event, but that won't help until you plan it out. By sitting down with your team and budgeting your spending categories before you start, you'll be able to make informed decisions as you go. Then you can get down to the real point of trade show marketing – making your business money.
2. Be the "Early Bird" for Event Sign-Up
Did you know some trade shows let exhibitors sign up as early as a year before the event? There's no reason to wait until the last minute! If you've decided to exhibit at a show, go ahead and reserve your exhibit space. You might even get some perks from the event organizer for being an "early bird!" Plus, by registering for your show in advance, you'll have the best chance at securing a prime spot on the show floor. After all, location matters. Having a great trade show booth location can help you increase foot traffic. (Here are some more awesome trade show ideas for increasing ROI!)
3. Order Your Marketing Swag Early, Too!
This is often something that's stressful because it's left to the last minute. But don't forget giveaways and marketing collateral are key components of trade show marketing! You can take the pressure off yourself and your team by designing and ordering them well in advance. We recommend getting them shipped to you a month before your event. Then plan out who on your team will be responsible for transporting them to the show.
When creating the glossy sales brochures and fun branded "swag" you hand out, think about how it will tie into the design of your exhibit. First-time exhibitors might not realize how much these little details impact your overall branding. When it comes down to it, the marketing collateral you hand out will be the lasting impression that attendees physically take away from your booth. You'll thank yourself later for putting in the effort.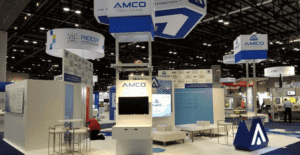 4. Team Up With a Full-Service Exhibit Agency
If you want to seriously reduce the stress of your event, it's key to team up with an exhibit agency that has the credentials and experience to make your trade show dreams happen. Plus, you don't want to have to juggle working with different companies for different parts of the process. That's why we suggest choosing a full-service agency. You'll get help navigating the design & fabrication process, advice on the best options for your program (ex: renting or purchasing a custom exhibit), and assistance with shipping, setup, and dismantle.
5. Have an Event Exit Plan
Trust us, this isn't something you want to leave to chance! Just like we suggest reserving your trade show booth space early, you should also have a plan for the close of the show. Talk to your exhibit agency about the logistics of dismantling your exhibit on the last day of your event and shipping the exhibit once torn down. See if it's a service they offer and if so, if they included it in their quote. That way you'll have no unexpected costs or stress and can focus your efforts on the trade show itself!